Deciding Where to Live During and After a Divorce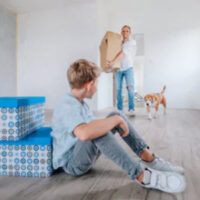 Divorce may seem like an unreal possibility while picking out wedding colors and deciding on a venue to get married in. But unfortunately, marriage for close to 40 percent of Canadian couples – almost half – that walk down the aisle eventually ends in a divorce. Despite the fact that more than 70,000 couples find themselves in this position every year, it doesn't make it seem any easier if you find yourself in this situation and are suddenly facing the decision about where to live in addition to pondering numerous other emotional and financial questions.
Let's discuss some of the options for living arrangements during and after a divorce.
Staying in the Matrimonial Home

When so many things are quickly changing, staying in the home that you have lived in and are familiar with can be a highly appealing option. But keep in mind if you share children with your ex that courts can factor in who has primary custody in deciding who lives in the matrimonial home. In Alsawwah v. Afifi, the spouses had come to court for a decision on who should have exclusive possession of their four-bedroom matrimonial home which the mother was currently living in. The father was living with the three children they shared in a one-bedroom apartment and proposed that granting him exclusive possession of the home would enhance the children's  best interests. The court agreed with the father and found that living in their much bigger former home, especially in light of the COVID-19  pandemic, is best for the children.
Renting
Renting during and after a divorce, even for a short period of time, can be an ideal housing solution. With so many emotions prevalent, sound decision-making is difficult following a split from a spouse. Renting affords you a temporary location of your own that gives you the opportunity to sort things out without taking on permanent financial implications. In addition, if something in your rental breaks, you get to make a phone call and fixing it will be someone else's responsibility. And with your rent being a stable amount from month to month, renting can make it easier to budget when you are transitioning from paying bills as a couple to paying them on your own.
Moving in With a Family Member
Even if you haven't lived with other family members in years, don't be quick to write off this option. For those who have a family member who is willing to allow them to come stay for a while, this can be a great option for a temporary housing solution. In addition to allowing you time to financially stabilize while paying reduced or even no fees for housing, it can also be invaluable to have a live-in support system at this emotionally challenging time.
We Can Help You Make the Right Decision

Separations and divorces are hard to emotionally process and adapt to and can be financially draining. As the Mississauga family lawyers at Zagazeta Garcia LLP, we can help you begin the process of re-imagining your life during this challenging time. In addition to assisting you with filing paperwork and guiding you through the court system, we are also the confidential and compassionate advocates you can depend on to maximize your interests. Contact us today to schedule a confidential appointment and begin moving forward.
Resources:
todaysparent.com/family/making-it-through-your-divorce/
canlii.org/en/on/onsc/doc/2020/2020onsc2883/2020onsc2883.html
https://www.zglawyers.com/does-the-tort-of-conspiracy-have-a-place-in-family-law/