Tips For Unifying The Kids As A New Stepparent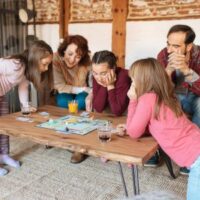 An unfortunate reality of every co-parenting situation is that there will be some aspects of each person's parenting style that the other parent simply does not agree with. While there are also circumstances involving domestic violence, neglect and/or abuse that require the assistance of the proper authorities, many times one parent simply does not like the way the other parent has chosen to do something in regard to the parenting of the kids they share which can cause conflict. As challenging as certain things may have been before, more significant difficulties often arise when one co-parent's significant other transitions from being a boyfriend or girlfriend to a spouse. Even in a situation where the parents have historically been able to communicate effectively, this can change quickly when a new stepparent enters the family picture, creating one of the stepfamilies that make up more than twelve percent of Canadian family structures.
Understanding the Challenges a New Stepparent Faces
Unfortunately, the potentially heightened challenges do not stop at the interactions between the co-parents. In addition, stepparents may face difficulties when interacting with the co-parent of their spouse's kids, as well as with the stepchildren themselves. If you are a new stepparent, it is particularly important that you work hard to solidify the relationship between yourself, your stepchildren, any kids you brought into the marriage and any you and your spouse have had together if you are part of the five percent of Canadians that have a child of both stepparents.
Unifying the Kids
Ideally, you and your spouse will have been discussing a plan for how your family will function after your marriage well before anyone walks down the aisle. Either way, it's never too late to begin taking steps to try to make things flow a bit better in your blended household. When attempting to unify the children, keep the following in mind:
Limit your expectations. It may seem strange to admit, but initially feeling differently in regard to your stepchildren in comparison with the bonds you share with your biological children is actually totally normal. Even if you don't already have children of your own, it may feel like you are giving attention and affection to your stepchildren that is one-sided and does not get returned in the way that you would expect which can be hurtful. Remain patient with them and over time they may just open up.
Don't play favorites. While feeling differently about your stepchildren may be understandable, these differences in your feelings should not translate into any type of inequality when it comes to how the kids are treated. Favoring your children is, simply put, a bad idea. In addition to creating resentment against you, this will also create an avoidable rift between the stepsiblings.
Set a recurring weekly family meetin Giving the kids a set date and time where they know they will be able to share their feelings in a safe space can be critical in solidifying a new family structure. Try to give each child an opportunity to speak so even more reserved children will feel comfortable sharing both positive and negative feedback.
The Compassion and Knowledge You Can Depend On
As the experienced Mississauga family lawyers at Zagazeta Garcia LLP, we are committed to helping our clients navigate through this crucial time in their lives no matter what challenges they happen to be facing. Our nonjudgmental legal team has seen and heard it all, and we offer our compassionate representation in support of a wide variety of family law and child custody matters. Contact us today for a confidential consultation to begin planning your next steps.
Resource:
cbc.ca/news/canada/stepfamilies-make-up-12-6-of-canadian-families-1.1201217