Preparing For Divorce When You Have a Child With a Special Needs Condition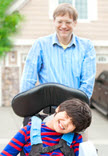 Anyone who has children most likely understands that an impending divorce will have a substantial effect on the smallest members of the family. However, parents of children who have special needs face can feel like they face even greater challenges when divorcing.
Though it may seem that you are alone in your situation, according to the 2017 Canadian Survey on Disabilities, over 22 percent of Canadians over the age of fourteen experience limitations in everyday activities because of a long term condition or health related problem. These statistics suggest that you are not alone, and there are many divorcing Canadians like you trying to figure out how to plan for the current and future needs of their special needs children.
In this situation, it is especially important that the divorcing parents come together to create a parenting agreement. The family law lawyers of Zagazeta Garcia LLP are very experienced in helping parents in similar situations reach an agreement and can help you plan for your impending divorce in light of the various aspects of your child's unique needs.
The Financial Aspect

Even though you likely have many stressful thoughts concerning your current financial situation in light of your impending divorce, take some time to consider your child's future earning capacity. Try to determine whether your child will realistically be able to live on his or her own and maintain financial independence at some point in the future. If you have doubts about this possibility, this is an important factor that needs to be communicated to your lawyer and considered in your divorce and the parenting plan you agree to.
The Transitional Aspect

This is also an important factor to consider carefully. During the transition of the divorce, both parents should make an effort to keep as many factors as possible the same, including your scheduled routines, activities your child participates in, and the providers who help care for your child. Make sure that you have conversations with your child's providers about their recommendations as to how your child best processes transitions and heed their advice.
The Caregiving Aspect
Maintaining communication between everyone in the family is always very important when parents divorce, and this is especially true now. Make sure that you put serious thought into how your child's time will be divided between you and your child's other parent as well as how scheduling and attending medical and educational appointments will be handled in the future.
Contact Us Today
If you have questions about how to proceed with your divorce in regard to your special needs child, you should reach out to an experienced family law lawyer who can help you prepare appropriately. The family lawyers at Zagazeta Garcia LLP have significant experience helping parents like you ensure that you maximize the rights of yourself and your child both now and in the future. Contact us today to schedule an appointment so that we can begin helping you transition.
Resource:
statcan.gc.ca/n1/pub/11-627-m/11-627-m2018035-eng.htm