Obtaining a K1 Visa to Join An American Fiancé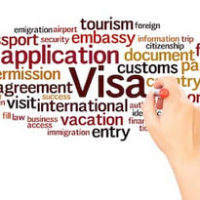 Falling in love evokes many emotions. This is especially true when you have fallen in love from a distance with a person who lives in the country that borders our own to the South. Once you and the American you love realized that you want to spend the rest of your lives together, you faced a different issue – which country to live in. And now, you have mutually decided that you will be moving to America in order to start a new life with the person you love. You know that you will be traveling to America under a K1 visa.
You are in good company as over 900 Canadians were issued K1 visas in 2014. But what exactly does that mean? And do you need the help of an immigration lawyer?
What is a K1 Visa?

This is a special kind of visa available to engaged couples that allows a U.S. citizen's non-U.S. citizen fiancé to enter the United States. The visa gives the couple exactly 90 days to marry, after which the K1 visa holder can apply for a green card to become a permanent legal resident of the United States.
Who is an Ideal Candidate For a K1 Visa?

Your fiancé must be a U.S. citizen, meaning that he or she was born in the U.S., naturalized, or acquired citizenship through a family member. Permanent U.S. citizens do not qualify for this visa.
You do not have certain diseases or disorders. A K1 visa cannot be approved if the applicant has certain communicable diseases or physical or mental disorders.
You and your fiancé have an established relationship that includes at least one in-person visit within the past two years.
You and your fiancé have already been planning to marry and can do so within 90 days of your arrival.
Do I Have to Marry My Fiancé Within 90 Days?
Generally speaking, yes, and this is what you and your fiancé should plan for and attempt barring unforeseen circumstances. If you have an emergency and your marriage must be delayed, you can always file for an extension but there is no guarantee that you will be approved for one.
I Have Children From a Prior Relationship. Does My K1 Visa Also Apply to Them?

Unfortunately not. Your minor children will need their own visa applications in order to enter the United States.
Do I Need a Lawyer?

It is highly recommended. Obtaining a K1 visa is a delicate process that requires a detailed look at your background. It is better to obtain legal assistance up front from an immigration lawyer who can help with the preparation of your documentation rather than to have something unfavorable later be discovered during this process that you have to combat in an attempt to still be granted your visa.
Are You in the Process of Trying to Obtain a K1 Visa?

If you have questions about how to proceed with obtaining a K1 visa, you should reach out to an experienced immigration lawyer who can help you prepare appropriately. The Mississauga immigration lawyers at Zagazeta Garcia LLP have significant experience helping people like you figure out how to transition from their life in Canada to a new one in America. Contact us today to schedule an appointment so that we can begin helping you transition.
Resources:
ca.usembassy.gov/visas/fiancee/
travel.state.gov/content/dam/visas/Statistics/Non-Immigrant-Statistics/NIVDetailTables/FY14NIVDetailTable.pdf