Legal Help And International Students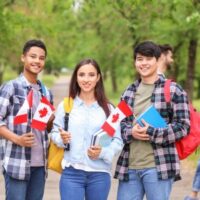 It was recently announced that Prime Minister Justin Trudeau is putting in motion the steps to suspend international student travel to Ontario in response to what was stated to be the province's request for this. Interestingly, the premier's office later said they did not make a formal request for the federal government to halt international students from entering the province. At this point, neither the provincial nor federal governments have indicated a date for implementing the supposed change nor stated how long it will last.
Background on International Students 
According to the Canadian Bureau for International Education, there were more than 530,000 international students in Canada at all levels of study in 2020 alone. Almost half of the students were located somewhere right here in the province of Ontario. And of this sizable number of international students, approximately 60 percent self-report planning to apply for permanent residence in Canada after they graduate. There is a good reason why so many international students flock to Canada – we offer international students one of the world's most competitive packages. Here, international students are actually able to work while they study, obtain a post-graduation work permit so that they can gain real world experience here in Canada, and even choose from more than 80 economic class immigration streams. But if you think the benefits of immigration only lie with international students, think again. The Canadian economy also benefits from students coming to study here as research conducted by our government indicates that international students contribute approximately $22 billion annually to the country's economy and help to sustain over 170,000 jobs.
Why International Students Need Legal Help 
The Canadian government regulates the admission of international students to Canada and also controls who ends up having to leave Canada soon after their graduation mainly because of immigration issues. In many cases, international students end up having to leave because they didn't understand what they needed to do to remain in the country and by the time they find out, it's too late.
It is best to be proactive and obtain legal advice before it is too late. If you are an international student or are hoping to become one, you should turn to a legal team that is experienced in providing international students with the legal advice they need as well as supporting them through their struggles.
Help From a Qualified Immigration Lawyer
Applying for permanent residency as an international student can be extremely confusing and lead to you having to overcome multiple barriers, especially as rules continue to shift during the ongoing pandemic. Obtaining the assistance of a knowledgeable and compassionate lawyer will help maximize your chances of achieving your goal of living and working in Canada after you graduate. As the compassionate Mississauga Canadian immigration lawyers at Zagazeta Garcia LLP, we have helped many people who are currently residing in Mississauga, Brampton, Milton, Toronto and the GTA surrounding area, but we have also helped those who are still living abroad and are hoping to immigrate to Canada. Regardless of where you are currently located, we welcome the opportunity to find out more about your individual situation and explain how we may be able to assist you during a no-obligations consultation.
Resource:
cicnews.com/2021/04/canada-to-suspend-entry-of-international-students-to-ontario-0417973.html#gs.zpposm