Deciding How to Approach Your Future Spouse With a Prenuptial Agreement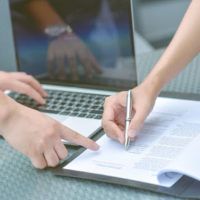 Getting engaged is an exciting time in your life. Afterwards, your life becomes a whirlwind of cake tastings, venue tours, and figuring out who you want to share your special day with. However, there is another important aspect of preparing for your marriage. This entails figuring out how to approach the topic of a prenuptial agreement with your future spouse.
There is no doubt that this can be one of the most intimidating aspects of planning for your impending marriage. After all, there is a societal stigma regarding prenuptial agreements that cannot be ignored. And while you are probably focused on the strength of your love and relationship, the reality is that about five million Canadians have separated from or divorced a spouse within the last twenty years according to data from the General Social Survey on Families. And truthfully, the overwhelming majority of these couples likely began their marriage believing they would be together forever.
The reality is that this planning tool is a good idea for any engaged couple regardless of their financial circumstances. And depending on the disparity in the future partners' respective economic situations, a prenuptial agreement can be practically indispensable.
The experienced family law lawyers of Zagazeta Garcia LLP are very experienced in helping couples like you mutually decide on a prenuptial agreement.
So how do you begin talking to your future spouse about a prenuptial agreement?

Here are tips for this conversation:
Understand that timing is everything. Most importantly, do not wait until the last minute to have this conversation. Instead, make sure that you bring up the subject well before your actual wedding date. Try to have the conversation in an environment where it is only the two of you and don't attempt it on a special occasion such as a holiday or birthday.
Be honest. This is a great opportunity to discuss your respective expectations for your marriage. While you may be planning to open a joint bank account, your future spouse may be assuming you will keep your existing personal accounts. It is better to reach common ground on issues like this one before your wedding day.
Acknowledge your future spouse's accomplishments. This is an important step towards making your future wife or husband feel as important as you view them. Make sure that you highlight your spouse's accomplishments and why your spouse should also want to secure assets.  And keep in mind that regardless of how different you and your future spouse's current economic states may be, your respective circumstances can change in the future.
Give your future spouse the opportunity to talk. This is not the time to take over the conversation.  Instead, relay your desire for and the reasoning behind wanting a prenuptial agreement and then allow your future spouse to voice his or her opinions. You should expect that your future spouse may become upset or even angry at what is probably an unexpected turn of events. However, an initial adverse reaction does not mean that he or she will not ultimately understand the benefits of a prenuptial agreement and agree to one.
Are You Trying to Figure Out How to Discuss a Prenuptial Agreement With Your Future Spouse?

We can help. We understand what a delicate balance this involves and can help you ensure that your assets are protected while concurrently solidifying your relationship with your future wife or husband. The Mississauga family law lawyers at Zagazeta Garcia LLP have significant experience helping people like you figure out how to successfully outline your prenuptial agreement. Contact us today to schedule an appointment to confidentially begin to figure out your next steps.
Resource:
statcan.gc.ca/n1/daily-quotidien/140212/dq140212a-eng.htm
https://www.zglawyers.com/so-you-are-separating-or-divorcing-what-about-your-beloved-pet/