Co-Parenting Effectively During The Holidays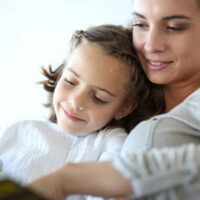 The holiday season has arrived and recent research indicates that Canadians are planning to make up for lost time this year when it comes to spending the season with loved ones. Results of that poll suggest that over a third of us are reportedly planning to celebrate with more friends and family than we celebrated with last year, though not at pre-COVID-19 levels. While a poll administered last year suggested that nearly half of Canadians visited with people outside their home during that holiday season, larger gatherings are expected this year which holds its own potential challenges. Co-parents have the additional challenge of trying to make the holiday season as pleasant as possible for all parties involved even in a situation that may be unpleasant. The good news is that this process can become easier by following a few tips.
Plan Ahead of Time
You and your child's other parent may already have a co-parenting plan in place that establishes how you the two of you will share time with your children during the holidays in which case you both have a clear understanding of how time will be divided. However, if your parenting arrangement is less concrete at this point, it is important that you reach out as early as possible to establish an arrangement for splitting time with your kids this year. This should even include a discussion of pickup and drop-off times and locations.
Do What is Best for the Kids
We are unfortunately still in a global pandemic which means that things can change at any time, so it's more important than ever for co-parents to remain flexible and be receptive to adjustments that need to be made. Each parent in a co-parenting situation should consider the child's needs for an equal amount of time with their other parent, even if that means changing dates or dividing holidays in half if geographically possible so the kids get time with each parent on the holiday. And in the most amicable co-parenting situations, spending the holidays together can be a reminder to the children you share of your shared love for them.
Talk About Activities and Gifts
Even if you and your ex don't have the best relationship at this point, you should make an effort to talk to your ex about what presents you're planning to get and what activities you'll be doing with the kids. In addition to helping to avoid the disappointment of a duplicate gift from another parent or relative, this communication can also help ensure that it doesn't appear that you are trying to outdo the other parent. Regardless of your financial situation, you should never attempt to use the holidays as a way to buy your children's affection and doing so can even backfire.
Are You Facing Co-Parenting Challenges?
While you should always put the interests of your children first, following these tips can be a great stepping stone toward helping you fulfill this. However, issues can remain present between you and your ex that interfere with your relationships with your children despite your best efforts to keep things amicable. As the seasoned Mississauga family lawyers at Zagazeta Garcia LLP, we are experienced in a range of legal matters that includes everything from child custody disputes to spousal immigration and we offer the support you need in this trying time. Contact us today to begin.
Resource:
thepeterboroughexaminer.com/ts/news/canada/2021/11/23/forty-five-per-cent-prepared-to-ditch-social-distancing-at-holiday-gatherings-poll.html