Can I Travel Internationally With My Children?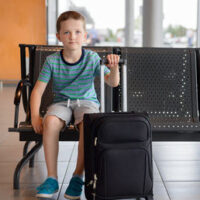 Planning a vacation outside of the province is an exciting prospect that the whole family looks forward to. However, the planning process can become much more complicated after a separation or divorce when one parent may want to take a trip with the children where the other parent or guardian is not present. Being able to bring your underage children along on the trip may be dependent on your ex in this case. In this circumstance, parents must be aware of their rights and responsibilities before traveling with children.
Obtain a Consent Letter For Children Traveling Abroad
If you are planning to travel internationally and you share custody with another parent or guardian, you will need to obtain a signed consent letter to take your children out of the country. While there isn't a Canadian legal requirement for children to carry a consent letter, a consent letter may be requested by immigration authorities when entering or leaving a foreign country, airline agents or Canadian officials when re-entering Canada. Additionally, the failure to produce such a letter upon request may result in delays or refusal to enter or exit a country. An experienced lawyer can advise you on the specifics of what should be included in your letter, as well as what to do if a custody issue arises while you are away outside of contacting authorities.
What Happens if Your Ex Won't Sign a Travel Consent For Your Children?
The good news is that in many circumstances, this won't stop you from being able to hit the road (or hop on a train or plane!). If the other parent is refusing to consent, your next option will be to go to court to get a judge to approve the trip. Barring other circumstances, judges typically allow parents to travel with their children. Some of the only things that could prevent a parent from being able to obtain permission from the court would be if the trip presents some sort of danger such as travel to a war zone or, alternatively, a concern that the traveling parent will not return to Canada with the children.
When Should I Seek Legal Help? 
There is a good chance that you will need legal help in this situation regardless of which side you are on. If you are struggling because you and your ex-partner cannot come to an agreement about your plans to take the child out of the country, you will need legal help. Similarly, if you are a parent that is being bullied about signing a letter and you have a valid concern that the child will be in danger or will not be returned to you, you should also seek legal help.
Are You Struggling to Understand Whether You Can Travel With Your Children?
Once you and a partner separate and there are shared children involved, planning a trip isn't as simple as packing a suitcase. While it's easy to overlook the importance of proper documentation in the anticipation of a fun holiday with your children, the reality is that failing to properly prepare can end your vacation before it even begins. As the Mississauga child custody lawyers at Zagazeta Garcia LLP, we can advise you on how to proceed with traveling with your children in cases involving custody disputes. Reach out for help today to begin.
Resource:
travel.gc.ca/travelling/children/faq
https://www.zglawyers.com/the-potential-consequences-of-being-the-lesser-involved-parent/