Back-To-School Co-Parenting Tips For Divorced Or Separated Parents In 2021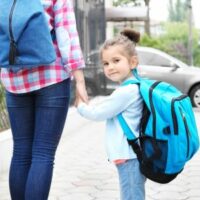 This time of year is always an eventful season for the millions of children who are currently enrolled in public school programs here in Canada and this has never been more true than in 2021. Ontario's government recently announced that students will be able to return to the classroom full time this September under its highly anticipated back-to-school plan. For the first time in several months, elementary students and secondary students alike will be able to attend school in-person five days per week although remote learning will remain an option for those who are not yet comfortable with that arrangement.
As children rush to pick out the perfect first day of school outfit, parents have other concerns, especially parents who are divorced or separated. Getting along with an ex is not always easy even when you have a mutual love for the children you share. Fortunately, there are co-parenting tips you can rely on to help smooth things along and get the school year off to a great start.
Choose a Learning Plan Based on Your Child
Now that more options are available, talk with your ex about which learning option is in the best interest of each child you share. While some children have thrived learning from home remotely during the pandemic, others have really struggled with the distance. If you are struggling to reach a decision, you can even talk to your child's doctor or therapist for advice. The important thing is to be on the same page about which option you are choosing and to have a mutual understanding of other logistics such as transportation and what you will do in the event of an outbreak or other emergency at school.
Be Open to Sharing the First Day of School and Other Important Events
Remember that the goal is to minimize how your children are negatively affected even if you absolutely hate being around their other parent. School events can be a great opportunity for co-parents to set aside their differences and support their kids together. Even if the other parent is unable to be there physically, you can make an effort to include the other parent through a video call or by taking pictures to share.
Get Everything in Writing
While not all co-parents will need to go to a lawyer, the reality is that having everything you agree to in writing in regard to the schooling of your children can be very helpful. Even if you currently get along with your ex fabulously, things can change quickly when a new partner enters the picture and due to many other factors. Having things in writing can save your interests in the event of an emergency or disagreement.
We Understand the Struggles of Co-Parenting
The more unity you can have in your family system, the more that your children can feel and rely on your mutual support as they attempt to adapt to their new normal. It is imperative that you follow any orders put in place by the courts, but it is also important to collaborate for the best results. As the Mississauga child custody lawyers at Zagazeta Garcia LLP, we are dedicated to helping families navigate effectively through life changing events. You can depend on our knowledge and compassion if you are struggling to reach an effective co-parenting agreement. Contact us today.
Resource:
statcan.gc.ca/eng/dai/smr08/2018/smr08_220_2018#a1